RF Laboratory
DDT RF Lab has a full set of SRD, Zigbee,Bluetooth, WI-FI, DFS, 3G, 4G RF test equipment and systems; GPS, Beidou, Galileo, GLONASS satellite navigation test system; DAB, DVB-T, DVB-S digital audio and video broadcasting test system; and more than 50 RF test equipment such as spectrum analyzer, modulation analyzer, comprehensive tester, network analyzer, microwave vector signal source, radar wave signal source, power meter, etc. The maximum test frequency in the laboratory is up to 100GHz.

RF Laboratory Testing Standards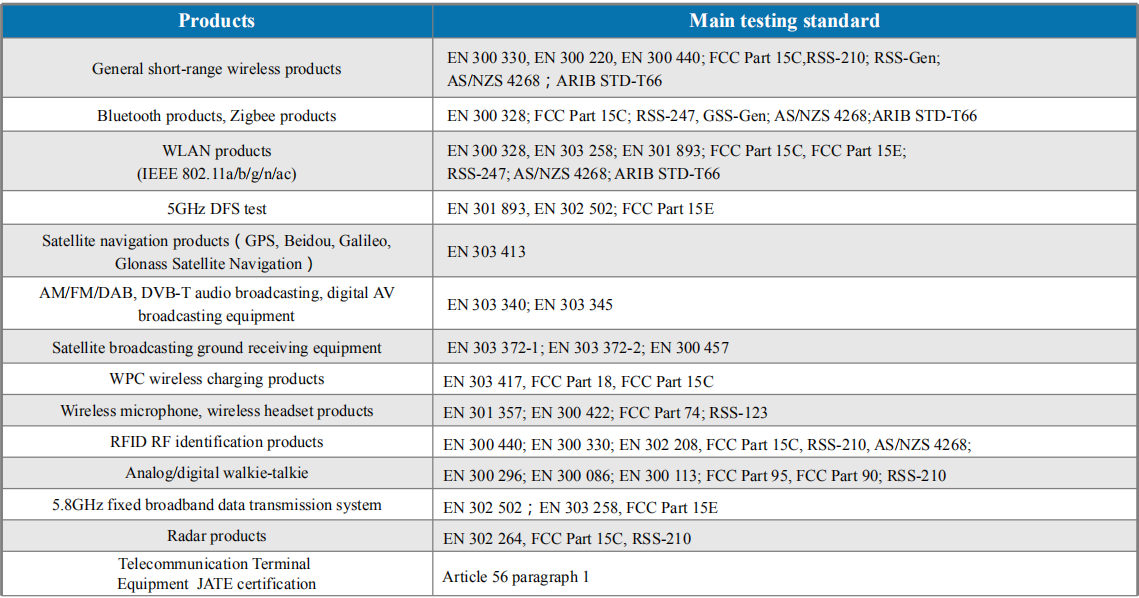 Product Scope
Bluetooth products, WLAN products, walkie-talkies, mobile phones, car radios, wireless microphones, wireless security products, wireless mice, wireless keyboards, wireless speakers, RFID, Zigbee, wireless monitoring equipment, smart home products, intelligent wearable products.

RF Communication RF Lab Service Scope

Product certification service, recognized by national certification bodies.
National regulatory requirements for wireless transceivers / test issuance and application services
Domestic Low Power RF Motor Control Test / Countermeasure Service / Report Issuance and Application Service
Communication product testing / report issuance and application services
National regulations and wireless / mobile / communication technology information consulting services
Domestic and international wireless RF testing / countermeasure services / report issuance / application service
Mobile EMC Test / WiMAX EMC Test / CTIA TRP / TIS Test
MIMO test / DFS Master / Slave test / SAR test