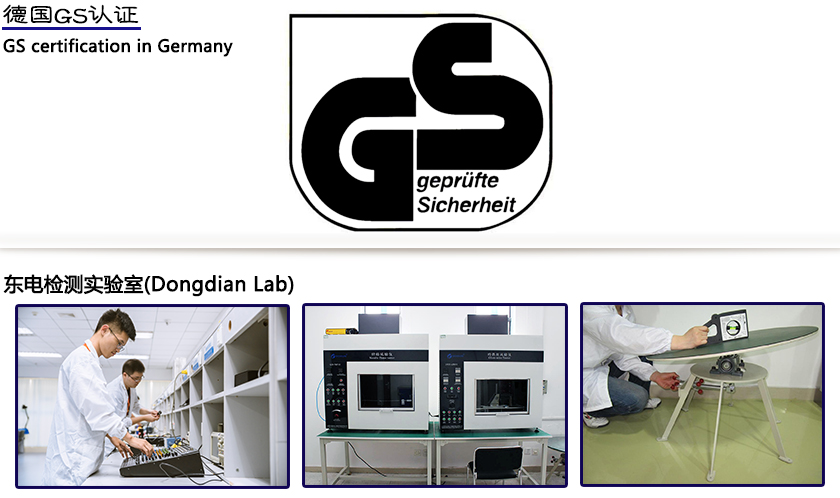 What is GS Certification?
●GS mark is a safety certification mark issued by TUV, VDE and other institutions that are authorized by the German Ministry of Labor .
●GS mark is a safety mark accepted by customers in Europe. Usually GS certified products are sold at higher prices and are more popular.
●The European Community(CE) regulates the "Low Voltage Directive (LVD)" from 1997.1.1. GS already contains all the requirements for the Low Voltage Directive (LVD). Therefore,TUV will issue the CE certificate (COC) for the product LVD for free after obtaining the GS certificate. TUV SÜD, TUV Rheinland's certificate contains the LVD certificate in the GS certificate after 1997. The manufacturer can obtain the GS certificate and LVD certificate at the same time.
GS Mark:

GS certification application process


1.Sign an agreement with agency
2.Provide technical data
3.Quote
4.Payment
5.Pre-detection
6.Send sample to TUV test or witness test
7.Issue certificates
8.First Time factory inspection
Service Scope:


1.Household appliances such as refrigerators, washing machines, kitchen appliances, etc.
2.Home machinery.
3.Sporting goods.
4.Home electronic devices, such as audio-visual equipment.
5.Electrical and electronic office equipment such as copiers, fax machines, shredders, computers, printers, etc.
6.Industrial machinery, experimental measuring equipment.
7.Other safety-related products such as bicycles, helmets, ladders, furniture, etc.