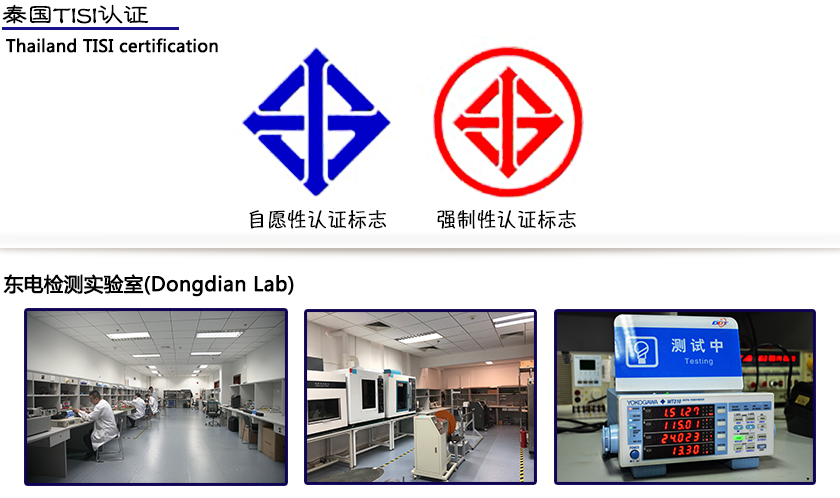 What is TISI certification?

TISI is a compulsory certification under the Royal Thai Law. It requires that the electrical and electronic products involved must comply with the Thai TISI standards and shall have the mark on it,then it can be legally sold in the Thai market. At present, only companies registered in Thailand can be licensed, and samples need to be sent to the local Thai laboratory for testing.
Thailand TISI certification basic processes:

Prepare information: including technical information, application materials

Sample test: send samples to local laboratory in Thailand

Factory review: Thailand local auditor will audit the factory, auditing and testing can be carried out simultaneously

Registration and issuance: Submit the application materials and reports to the Thai TISI for certification.

Thailand TISI certification related matters

● TISI certification does not have a validity period.

● TISI audit the factory once every three years, the factory auditing requirements can refer to ISO or 3C; if the factory changes or increase new factories,new application will be needed.

● Key parts need to have relevant certification,CB/UL/VDE/TUV etc can be accepted.

● Samples sent for testing can not have the TISI mark.
Thailand TISI Certification Product Scope
| | | | |
| --- | --- | --- | --- |
| Number | Product Name | Number | Product Name |
| 1 | AV Adapter | 11 | Battery /Battery Cells |
| 2 | LED | 12 | Multi-function Socket |
| 3 | Luminaire Control Unit/Luminaire Drive Power Supply | 13 | Wired Microphone |
| 4 | Mosquito Traps | 14 | TV |
| 5 | Drier Machine | 15 | STB(Set Top Box) |
| 6 | Refrigerator | 16 | Electric Kettle |
| 7 | Waching Machine | 17 | Microwave Oven |
| 8 | Air Conditioner | 18 | Electric Stove(inductive cooker/electric rice cooker/electric fryer) |
| 9 | Fan/Exhaust Fan | 19 | Electric Iron |
| 0 | Electric Air Drier/Hair Curling Iron | 20 | Motor Compressor |