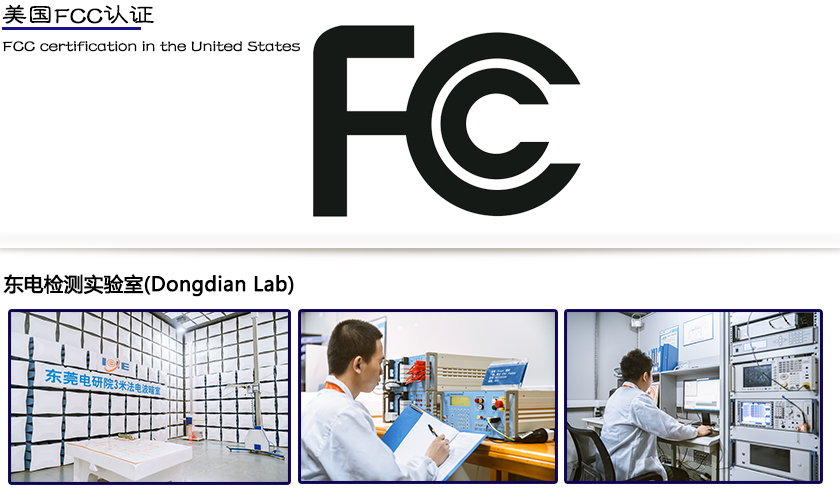 What is FCC Certification?
1.US electromagnetic compatibility certification
2.Mandatory certification
3.There are three common authentication methods: Certification, DoC, and Verification,the stictness dicreases.
4.For these three certifications, the FCC committee also has relevant requirements for each laboratory.


FCC certification:


1.Verification :
There must be the FCC mark on the product, package, or the description:


FCC claim identification:
This device complies with Part 15 of the FCC Rules. Operation is subject to the following two conditions:
(1) this device may not cause harmful interference
(2) this device must accept any interference received, including interference that may cause undesired operation.


2.Declaration of Conformity:
If the product conformity authorization is based on testing of the entire product or system, use the label below in the left: The label content must include the model number and trademark.if the personal computer is assembled from components that have passed the test, use the mark in the right instead.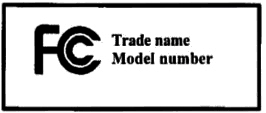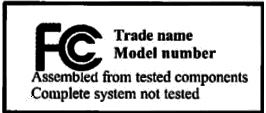 3.Certification:
The FCC ID number must be marked: FCC ID: XXXXXX, with the FCC claim identification as above.


US FCC certification standards
FCC Part 15 -Computing Devices, Cordless Telephones, Satellite Receivers, TV Interface Devices, Receivers, Low Power Transmitters
FCC Part 18 - Industrial, Scientific, and Medical Equipment, i.e. Microwave, RF Lighting Ballast (ISM)
FCC Part 22 -Cellular Telephones
FCC Part 24 - Personal Communications Systems, covers licensed personal communications services
FCC Part 68 -All Types of Telecommunications Terminal Equipment, i.e. Telephones ,modems,etc
FCC Part 74 -Experimental Radio, Auxiliary, Special Broadcast and other program distributional services
FCC Part 90 -Private Land Mobile Radio Services includes Paging Devices and Mobile Radio Transmitters, covers land mobile radio products such as high- powered walkie-talkies
FCC Part 95 -Personal Radio Service, includes devices such as Citizens Band (CB) transmitters, radio-controlled (R/C) toys, and devices for utilization under the family radio service
FCC DOC application process
1.Application for FRN (FRC Registration Number):the application fee is USD50 for first time application for the FCC registration number
2.Apply for FCC Grantee Code: three letters, the number is issued by FCC, it's a permanent number (limited to similar products)
3.The manufacturer writes the FCC ID: the first three are the Grantee code, and the following ID numbers are selected by the manufacturer. the number should be no more than 14 bits.
4.Fill in 731FORM
5.Apply for ID and confirm it is confidential
6.Issue a certificate,and list it on the FCC website
Service Scope:
Federal Communications Commission (FCC) - Manages the importing and using of radio frequency devices, including computers, fax machines, electronic devices, radio receiving and transmitting equipment, radio-controlled toys, telephones, personal computers, and other products that may harm personal safety. If these products are to be exported to the United States, they must be tested and approved by a government-authorized laboratory according to FCC technical standards. Importers and customs agents are required to declare that each radio frequency device complies with the FCC standard, in total,it should get the FCC license.
1. Power FCC certification: communication power supply, switching power supply, charger, display power supply, LED power supply, LCD power supply, uninterrupted power supply UPS, etc.;
2. Lamps FCC certification: downlight, track light, garden light, portable light, down light, LED street light, light string, desk lamp, LED spotlight, LED bulb light, grille light, aquarium light, street light, LED light tube, LED lamps, energy-saving lamps, T8 lamps, etc.
3. home appliances FCC certification: fans, electric kettles, audio, televisions, mice, vacuum cleaners, etc.;
4. electronic FCC certification: ear plugs, routers, mobile phone batteries, laser pens, vibrators, etc.;
5. Communications products FCC certification: telephones, wired telephones, wireless main and auxiliary machines, fax machines, telephone answering machines, data machines, data interface cards and other communications products.
6. FCC certification of wireless products: Bluetooth BT products, tablet PCs, wireless keyboards, wireless mice, wireless readers, wireless transceivers, wireless walkie-talkies, wireless microphones, remote controllers, wireless network devices, wireless image transmission systems, and others Power wireless products;
7. Wireless communication products FCC certification: 2G mobile phones, 3G mobile phones, 3.5G mobile phones, DECT mobile phones (1.8G, 1.9G band), wireless intercoms, etc.;
8. Mechinery FCC certification: gasoline engine, welding machine, CNC drilling machine, tool grinding machine, lawn mower, washing equipment, bulldozers, elevators, drilling machine, dishwasher, water treatment equipment, gasoline welding machine, printing machinery, woodworking machinery , Rotary drilling rigs, lawn mowers, snow plows, excavators, printers, printers, cutting machines, rollers, trowels, brush cutters, hair straighteners, food machines, lawn mowers, etc.