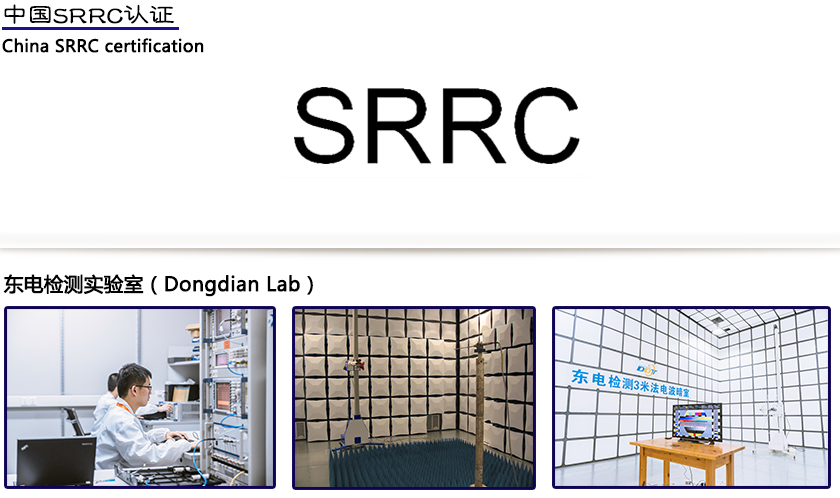 What is SRRC certification?
The prescribed body of SRMC Certification (also known as SRRC Certification)is the State Radio Monitoring Center (SRMC), formerly known as the State Radio Regulation Committee (SRRC), is the only authorized and can test and certificate radio model agency in mainland China. At present, China has set a special frequency range for different types of radio transmitting equipment, and not all frequencies can be legally used in China. In other words, all radio transmitting equipment sold or used in China will be specified in different frequencies. In addition, applicants must pay attention to the scope of certain radio transmission equipment, not only apply for "radio model approval certification", but also must apply for China Compulsory Certification (CCC) and / or Network Access License (MII) approval.

Information needed for China SRRC certification

1. Application form (two copies);
2.Letter of authorization (two copies);
3. Customer's business license;
4.the number of samples is depending on the product, three to five with the RF line pulled out are required (ie RF port or SMA port);
5. The customer's ISO certificate or company profile and company capability description;
6. Product specifications, circuit diagrams, instructions, block diagrams, operating instructions, etc.;
7. Antenna Peak Gain and Antenna pattern;
8, test direction;
9. The company's business license (annual inspection cannot be expired);
10.EUT color photos 3 copies (must contain the each interface and each side);
11. frequency channel comparison table (only provide if there are many working channels, such as DSSS or FHSS working methods);

Application for China SRRC Certification Notes

1.The company must provide a company introduction if it does not obtain an ISO quality system certificate, and the introduction must include a description of the quality system,which mainly includes the following points:
1) The company did not obtain the ISO quality system certificate;
2) Make a simple explanation of the current product's quality is how to managed.
3) Ensure the consistency of product quality.


The points above must be included in the company introduction rather than drafting a separate document. And the company introduction must be original and needs to be covered the company's official seal.


2. If the company's name is inconsistent with the equipment brand, a copy of the brand's registration certificate or the original letter of authorization from the brand owner to the applicant company must be provided. If the company name is the same as the brand, this document is not required.


3. In the model approval, the equipment antenna is a problem that will often be met. In principle, the SRRC requires that the antenna should not be detachable with the equipment, because the actual transmission parameters of the equipment will be changed after the antenna is changed.However, in actual equipment, many antennas are replaceable. For this reason, SRMC adapts and antenna uses a non-standard common interface will be considered as a non-integrated one.For example, using an SMA interface for an antenna will be considered as a non-integrated antenna and will not pass the test, but if it is changed to an R-SMA antenna interface, the SRRC can be considered as an equivalent integrated antenna, and the test will be OK. For specific questions, please contact us.


4. If the same equipment applies for SRRC approval of different brands or models at the same time, each model must apply for and pay separately.

China SRRC service scope

Micropower/WIFI/Bluetooth Products with transmit emission and receiving functions are required to do the SRRC certification. Wireless products such as:
Drones,VR glasses,smart glasses,intelligent robots, smart hosts,smart watches,smart cameras,motion trackers,smart homes,DIY computers,smart rearview mirrors,smart driving recorders,smart phones,smart tablets,notebooks, Gamebook,Bluetooth watch,Bluetooth speaker,Bluetooth headset,wireless router,wireless player,wireless projection, student ipad,voice recorder,etc. are required to apply for CCC certification (products within the scope of certification). The "Radio Transmitting Equipment Certification", Model Approval (SRRC), has been mandatory.